Venue
Frontiers International Conference on Wastewater Treatment
21-24 May 2017 – Palermo, Italy
Welcome to PALERMO
Palermo, the capital city of Sicily, is located in the heart of the Mediterranean sea. Built and grown over the course of centuries, Palermo conveys a range of diverse cultures and traditions, from the Fenicians to the Romans, Arabs, Normans and Spanish-French people, until the recent unification within the Italian kingdom.
Nestled in La Conca d'Oro (the golden shell) and roughly embraced by Monte Pellegrino and Capo Zafferano, Palermo was declared "the most beautifully situated town in the world" by Oscar Wilde – rightly, in many people's eyes.
Palermo may not be the natural choice for first-time visitors to Italy, yet its dark complexities have attracted artists and writers for centuries: Wagner wrote Parsifal here, and until a few years ago Jenny Saville operated from a studio in a crumbling 18th-century palazzo.
The conference will be held one on the corners of the historical city centre, one of the largest in Europe. At walking distance you will find the most famous cultural and architectural attractions of the city. Among the others, the beautiful churches of Magione, Casa Professa, La Martorana, S. Giuseppe dei Teatini, San Giovanni degli Eremiti, the Royal Palace and its Cappella Palatina and the Cathedral, an extraordinary (and enormous) feast of geometric patterns, ziggurat crenulations, majolica cupolas and blind arches.
Nearby the conference venue you can also find nice municipal gardens such as Giardini Garibaldi and Villa Giulia, and the Botanical Garden, one of the largest and most ancient botanical gardens in Europe, reserving very rare tropical species in open field cultivation or greenhouse.
Moving from the city center to the more recent quarters of Palermo, in via Ruggero VII and via Libertà, you will encounter very interesting shopping areas enriched by the presence of the two main city theatres, Politeama Garibaldi and Massimo, the largest opera theater in Italy and one of the largest in Europe. Built between 1875 and 1891, it can accommodate more than 1,380 spectators. The opera was designed and supervised by the great Italian architect Giovan Battista Filippo Basile. It is considered one of the most famous operas in Italy where you can enjoy music and beautiful room.
Walking within then narrow and characteristic streets of the city center you will also be able to smell and taste the flavours of Palermo street food: "pani 'ca meusa" and "panelle" (bread with fried spleen or chickpeas slices), "stigliola" (grilled meat), arancine (rice balls), "sfincione" (typical Palermo's pizza) particularly abundant in historical markets of the city.
Colourful and picturesque, you will find small open shops selling food with their array of multicoloured awnings, their brightly painted stalls decked with assortments of fruit, vegetables or fish, lit with bare light-bulbs. To get the real soul of Palermo, take a walk at its markets. You will stroll through Ballarò market to reach Professa square with the baroque Casa Professa del Gesù church. The 'Vucciria' market is certainly Palermo's most famous, always bustling with colour and noise (which possibly gave rise to its name). Eventually, just beyond Massimo theatre you will find the Capo market, the most famous for the variety of spices and aromas.
In the very close neighbourhoods of Palermo, the small village of Monreale hosts the Cathedral, a unique architectural jewel, built according to the Bizantine style and astonishingly enriched with golden mosaics, representing the main episodes of the Holy Bible.
In front of the conference venue, the Foro Italico, a sea side marina walk populated by Palermo citizens, which separates the city center from the sea side, reaching the gate of the city harbour the third largest commercial harbour in Italy. Here you can enjoy a walk, eating ice Palermo also offers wonderful options for enjoying beaches and bathing and swimming in the crystalline water of the city's most popular beach of Mondello, 30 minutes from the city centre by city buses.
Ideal for special walks enjoying an ice cream or a typical "cannolo siciliano"… or for the bravest, a big piece of "cassata siciliana", a typical Sicilian dessert with a sponge cake base and ricotta cheese, decorated with almond pastry and candid fruit.
… and, as some of you may have already experienced… these are just the "starters"
Conference Venue
The conference will be held at Sala Magna of Palazzo Steri, a historical monumental building located in the historical centre of Palermo, hosting the Rectorate and Administrative Offices of the University of Palermo.
The construction of Palazzo Steri dates back to the 14th century by the rich and powerful Chiaramonte family. From the late 15th century to 1517 it housed the Aragonese-Spanish viceroys of Sicily, being later home to the Royal Customs. The palace was restored in the 20th century. The opening session venue, the "Sala Magna" (Grand Hall) and "Sala delle Capriate" (Room of the Trusses), are richly decorated with a painted wooden ceiling by Sicilian artists. Some rooms of the palace host now a museum with precious artworks from local artists. Among these, the painting "Vucciria" by Renato Guttuso.
The conference room (Sala Magna) is located at the second floor of the main building, ask for indications at the main entrance.
Palazzo Steri
Piazza Marina 61, 90133 Palermo
Accommodation
Grand Hotel Villa Igiea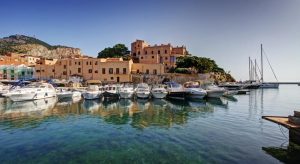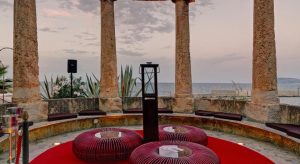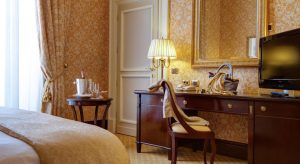 Offering panoramic views across the Bay of Palermo, Grand Hotel Villa Igiea – MGallery Collection is 2 km from Palermo Harbour. It features an outdoor swimming pool, tennis court and elegant rooms and suites.
Every room has a different design and layout at Villa Igiea – MGallery Collection and no two are the same. They do however have many facilities in common, including air conditioning, satellite TV with pay-per-view movies and a writing desk. Some offer views of the Tyrrhenian Sea or Pellegrino mountain.
Drinks are available from the bar, while the restaurant serves Sicilian specialities. You will also find a gym, solarium and massage rooms at this luxury 5-star hotel. Free parking is provided.
Single Room: €250 B&B
Double/Twin Room: €290 B&B
---
Grand Hotel Wagner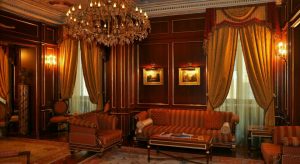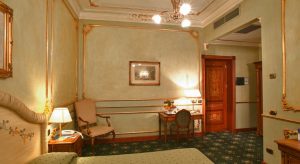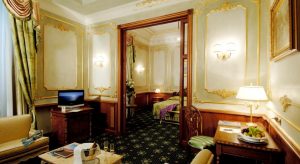 The luxury Grand Hotel Wagner is full of old-world charm. This prestigious hotel set in the heart of Palermo, near the Politeama Theatre, the pedestrian area and many top-class shops and restaurants.
Recently restored, this early-20th century building has exceptional interiors that featured in the famous Italian film 'The Leopard'. Sit upon antique furniture and take in your surroundings; chandeliers, rare marble, rich carpets and old paintings. Rooms are just as exquisitely decorated. Sip a cocktail in the elegant American Bar or listen to relaxing music in the Piano Bar.
The Wagner offers conference and business facilities with modern technology. Sessions in the fitness area and sauna, and massages can be booked on site.
Single Room: €130 B&B
Double/Twin Room: €190 B&B
Eurostars Centrale Palace Hotel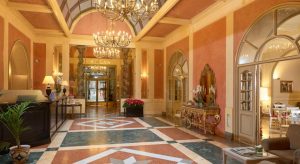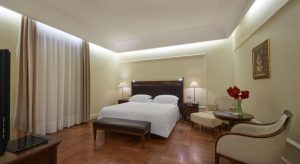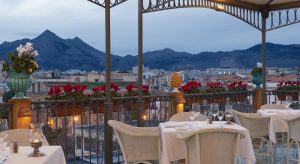 Located in the heart of Palermo, just a few steps from the magnificent cathedral and the famous Via Maqueda, this hotel was once the noble 18th century Palazzo Tarallo. Originally a magnificent aristocratic residence, this hotel was brought back to its original splendour by an expert restoration completed in 2003. The particular care exercised in the selection of furnishings and the preservation of the original structures endowed the hotel with a special charm and a unique personality.  On the main floor, lavish frescos and precious antique furniture recreate a magical atmosphere straight out of the novel 'The Leopard'.
Single Room: €164 B&B
Double/Twin Room: €179 B&B
---
Grand Hotel Et Des Palmes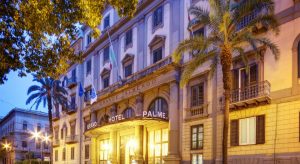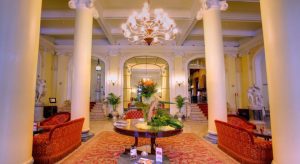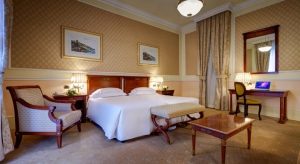 Grand Hotel Et Des Palmes is an elegant Art Nouveau building, a 5-minute walk from Palermo's Massimo and Politeama Theatres. It has classically furnished rooms and an extensive Sicilian breakfast. Rooms at Des Palmes are decorated with traditional furniture and fine fabrics. Each has air conditioning, satellite TV and a minibar. Breakfast is served in a luxurious hall, and includes cappuccino, almond pastries, and granita crushed ice in summer. The Gattopardo piano bar serves cocktails and Marsala dessert wine.
Palermo Port, where ferries depart for Cagliari and Naples, is a 10-minute walk away. Palermo Cathedral is 1.6 km from the hotel. Ruggero Settimo is a great choice for travellers interested in food, monuments and culture.
Single Room: €150 B&B
Double/Twin Room: €185 B&B
---
Hotel Palazzo Sitano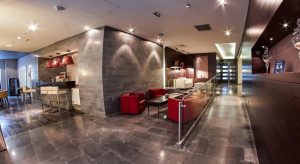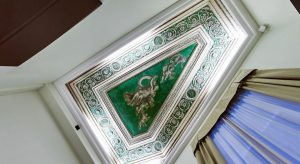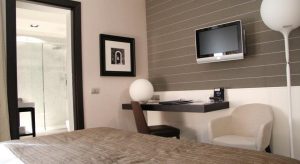 This elegant 18th century Baroque town house lies in the historic centre of Palermo. Its contemporary rooms offer flat-screen satellite TV, just 150 m from Piazza Marina.
Featuring 1 free hour in the spa, all rooms at Palazzo Sitano feature parquet floors and a minibar. Each room has a private bathroom complete with hairdryer and a luxury toiletry set. Some rooms offer a balcony.
Fresh fruit, salads and cheeses form part of the varied buffet breakfast. Guests can enjoy free WiFi throughout the property.
Buses stop right outside Palazzo Sitano Hotel and connect you to Palermo Railway Station. The harbour is a 15-minute walk away. A valet parking service is available on request.
Single Room: €115 B&B
Double/Twin Room: €140 B&B
---
Quintocanto Hotel & Spa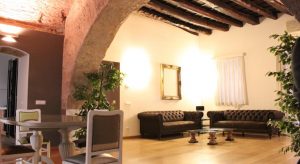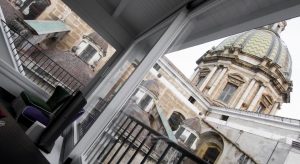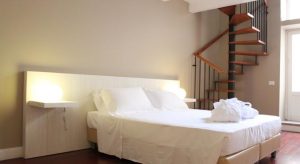 Quinto Canto Hotel & Spa is set right in the middle of Palermo's historic centre, at the Quattro Canti crossroads. Rooms are spacious and stylish. This beautifully restored 16th-century building also features a spa.
The luxurious rooms include top-quality furnishings, a plasma-screen TV, and free Wi-Fi. Some rooms have a patio or a balcony, and some feature a terrace overlooking the Church of San Giuseppe dei Teatrini. The restaurant La Locanda del Gusto serves high-quality cuisine noted in various guide books. Mediterranean and Sicilian dishes are made with fresh local ingredients. The best Sicilian, Italian and international wines are available. Elegant and modern, Quintocanto Hotel & Spa has a reading room and a TV room.
After a day visiting the city, guests can unwind at the spa, which features saunas, whirlpools, and Turkish baths. Massages and beauty treatments can also be booked.
Single Room: €130 B&B
Double/Twin Room: €150 B&B
---
Hotel Plaza Opéra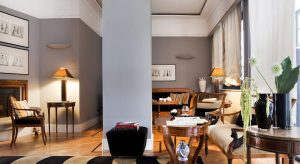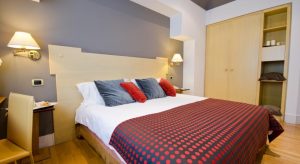 Set in the heart of Palermo, Hotel Plaza Opéra is just 150 m from the Politeama Theatre. The rooms offer elegant parquet floors, air conditioning, and a flat-screen satellite TV. All rooms are either decorated with serigraphs by great modern painters, or with original 18th-century French engravings inspired by Jean de la Fontaine's fables. The Plaza Opéra Hotel boasts a spacious lobby, with antique paintings and furniture, works by modern artists, and state-of-the-art design. There is a cosy lounge bar with art books, and breakfast includes delicious local specialities and a selection of organic products.
Buses run from Palermo and Trapani airports, and stop 100 m and 20 m from the hotel respectively. Private transfers can also be booked at reception.
Single Room: €200 B&B
Double/Twin Room: €250 B&B
Abatellis Luxury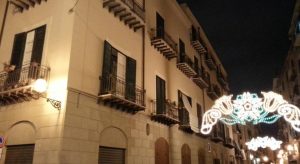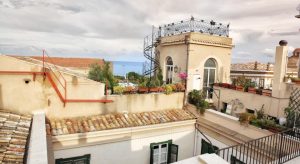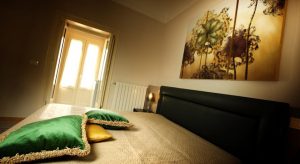 Set in the historical centre of Palermo, in the Kalsa district, Abatellis Luxury offers a sea-view terrace and air-conditioned accommodation. Palermo Harbour is less than 2 km away. A buffet breakfast is provided daily, including organic products and traditional Sicilian pastries. With free Wi-Fi and a balcony, elegant rooms at the Abatellis have a flat-screen TV, an electric kettle and a safe. Suites also feature a seating area.
This property is a 2-minute walk from both Santa Maria della Pietà church and Palazzo Abatellis. Palermo Centrale Train Station can be reached on foot in 15 minutes, while Palermo Cathedral is less than 2 km away
Single Room: €150 B&B
Double/Twin Room: €170 B&B
---
Hotel Joli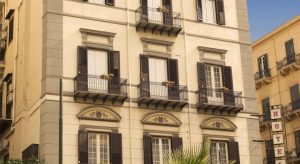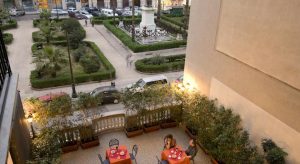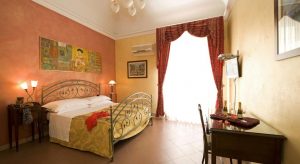 Hotel Joli is set in the heart of Palermo. This beautiful building from the early 19th century features original frescoes and antique works of art. The unbeatable location of the Joli Hotel is ideal for those wanting to experience the city in full. Its large terrace overlooks the surrounding gardens and the beautiful piazza.
Start your day with a typical breakfast, complete with Sicilian cakes and fresh fruit. Relax in your elegant room, tastefully decorated with rich fabrics and paintings. The hotel was refurbished in 2003 and features all modern amenities including free internet connection in all rooms.
Single Room: €60 B&B
Double/Twin Room: €90 B&B
Hotel Villa Archirafi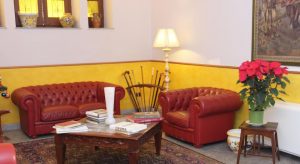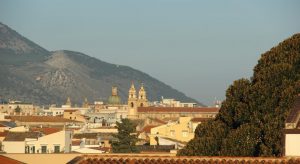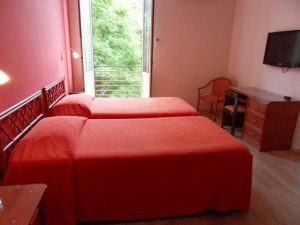 Villa Archirafi is near the Botanical Gardens, 300 m away from Palermo Train Station. The hotel offers free parking, and all rooms have a private bathroom. WiFi is free throughout.
Some rooms of Hotel Villa Archirafi also feature a balcony with views of the private garden or the Botanical Gardens.
Drinks and snacks from Hotel Archirafi's bar are also served on the sun terrace or in the patio. Breakfast includes fresh pastries together with fresh Sicilian orange juice and espresso coffee.
Single Room: €55 B&B
Double/Twin Room: €80 B&B
How to reach Palermo
Palermo has got a main airport situated about 30 km from the city center.
How to reach Palermo city centre from Palermo airport
BY CAR:
Palermo airport is connected to the city centre by the A29 highway (about 35 km, i.e. 40–45 min driving).
BY TRAIN:
The Trinacria Express connects Palermo central station directly with the terminal.
Ticket costs around € 6.00. Click for the timetable
BY BUS:
From Palermo central station (or Piazza Politeama) to the airport and vice versa: Autolinee Prestia e Comandè.
Buses every 30 min. Trip duration 45–60 min. Ticket costs around €6.50.
BY TAXI:
Several companies offer the taxi service:
To reach the city center from the airport by taxi the rate is around 38€.
The conference venue, Sala Magna of Palazzo Steri is located in the city centre. At 1.2 km, i.e. 15 min walking distance from the central station or 2.6 km, i.e. 30 min walking distance (about 15 min driving) from Piazza Politeama.
The second airport located in Trapani (about 120 km from Palermo) offers also a number of low-cost flights from/to most European countries. Trapani airport is connected to Palermo city center by BUS. Click for the timetable.